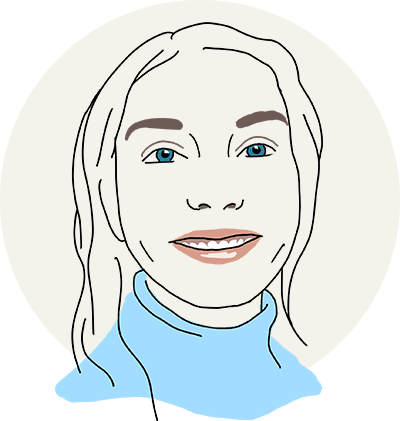 Hello! Please allow to introduce myself:

I am a motion designer based in Austin, TX looking to remotely join a creative team in tech on either a project or full-time basis.
Favorite part

of my profession is: the people. Helping people achieve their goals is what keeps me going, even if it doesn't involve motion or design!
My

2nd favorite

aspect is: learning from others. About their area of expertise, their perspective on the world and what their days look like.
My ideal collaboration would involve:

a team that's learning and having fun together. I value constructive feedback,
often prefer fast timelines, and receive fulfillment from supporting others.
Why am I so eager for an opportunity to work with Google?
I am looking to utilize my skills in a different way than usual and immerse myself in new challenges.
What would a Google team get out of working with me?
Hard worker who's invested in her team's objectives and who might be able to make you laugh!
Two of my recently-favorite projects...

...give a good sense of the

type

of work I've been doing directly with clients.
SmartyPants' Internal Brand Video
Why I loved this project:
Flexed my creative muscles and expanded on the brand's existing art.
Context:
for an internal presentation by CEOs to corporate interests.
- Time (7 days!!!)
- Client wanted my fresh eyes on the creative direction
- Marrying human touch with technology with art direction
Outcome
: Delivered on time and exceeded client's original expectations and hopes.
Teaser to Recreation.gov's redesign
Why I loved this project:
same reasons as above* plus re-envisioning the tool's UI in a simplified form.
- Relatively short turn-around with the tool still in development and levels of approvals.
- Making the video fun for a family while also giving a comprehensive overview of the tool.
Outcome
:
Delivered on time and exceeded client's original expectations (yes, again!).
Additional aspects from my freelancing experience:
✓  Optimize and iterate on process and automation.
I often take the time to plan for a system where implementing future changes has a responsive quality. For me, this usually takes the form of creating non-destructive set-ups in After Effects by linking properties with expressions or strategizing around a particular file management structure.
✓ Work closely with internal brand teams to develop solutions that adhere to established standards.
...And so much more. But you're probably tired of reading, so let's set up a meeting instead to properly

say hello

! :)